TOP
Horse Heaven Hills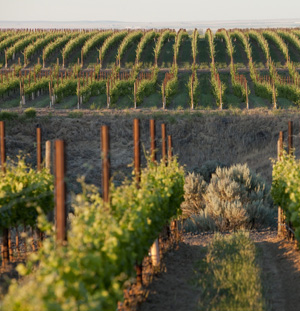 Located between Yakima Valley and the Columbia River, the Horse Heaven Hills appellation is an expanse 50 miles long and 20 miles wide. Characterized by a dry desert landscape and persistent winds that blow across the vineyards, Horse Heaven Hills is distinct from any other winegrowing area in the U.S. not only due to its unique climate, but also because most of the vines here are grown upon their natural "feet" rather than grafted rootstock, which is a tremendous advantage to maintaining healthy vines and is very rare in other winegrowing regions around the world.
The remarkable terrain and weather conditions of this locale are a result of its proximity to the Columbia River. The consistent, sweeping winds protect the vines year-round from extreme temperatures, fungal disease and vineyard pests. These distinctive weather patterns, combined with the sandy, quick-draining loam soils in which the vines are rooted, result in berries with thick skins, plush tannins and balanced acidity.
With elevations ranging from 300 to 1,800 feet above sea level, a northern longitude and many south-facing slopes, the vineyards here receive about 17 hours of daylight. This extended heat exposure is offset by cool evenings, creating a temperature shift that is more pronounced than other winegrowing regions of Washington. This helps the fruit develop intense concentration and maintain an ideal level of natural acidity to produce wines that are complex and well structured.