TOP
VIRTUAL TASTINGS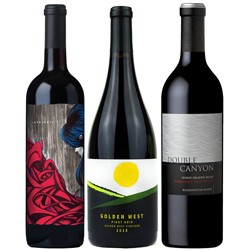 Virtual Tasting: Washington State Winemaking Wizards
THURSDAY, JUNE 4
WINE.COM PRESENTS WASHINGTON STATE WINEMAKING WIZARDS
Join this talented trio of Washington winemakers Kate Michaud, Charles Smith, and Juan Muñoz-Oca as they describe their wizardry in producers award-winning wines. Charles will describe his latest project, Golden West Pinot Noir, Kate will present Double Canyon Horse Heaven Hills Cabernet Sauvignon and Juan will share his Intrinsic Blend of Malbec and Cabernet Franc. They are joined by Host Gwendolyn Osborn.
To taste along with us, featured wines may be ordered online at Wine.com.
WATCH THE VIDEO
If you missed the tasting on June 4, you can watch the recording here.