TOP
Double Canyon Vineyard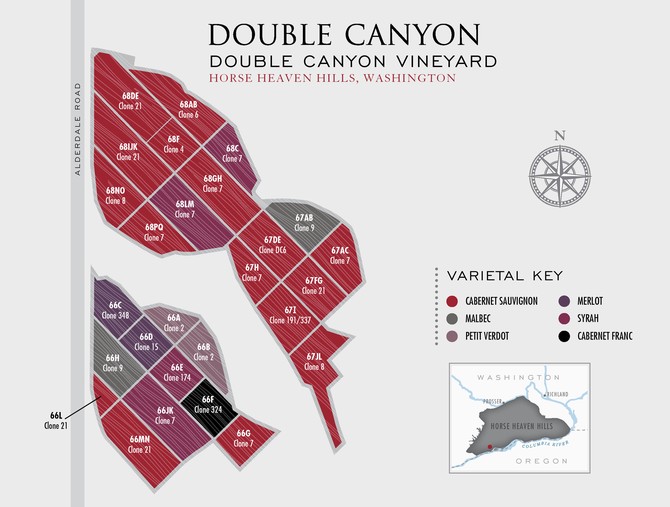 Double Canyon Vineyard encompasses 90 acres of estate vines located in the heart of Horse Heaven Hills, six miles from the Columbia River. Situated roughly in the footprint of the original wheat crop circles that preceded the vines, the vineyard is planted densely at about 1,850 plants per acre—double the norm in Washington— in order to crowd the space and achieve less fruit per plant. Producing less fruit increases overall quality, as all of the plant's resources are concentrated into fewer clusters.
Long sunny days set in contrast to cool evening temperatures create optimal conditions for the diverse clonal selections of Bordeaux varietals that grow here. The vineyard is primarily planted to a range of different Cabernet Sauvignon clones that have been selected for the characteristics they have displayed from our site over the past decade of winegrowing.
One of the striking features of Double Canyon Vineyard is its pristine condition. Will Beightol, our General Manager and Winegrower, has been with the project since its inception. A native of the neighborhood, he oversaw the original planting of the vines in 2007 and continues to manage the vineyard using a meticulous feedback loop system. Having complete control over the estate allows us to cultivate exceptionally high quality fruit from which we create wines that capture the distinctive terroir of the appellation.