TOP
horse heaven hills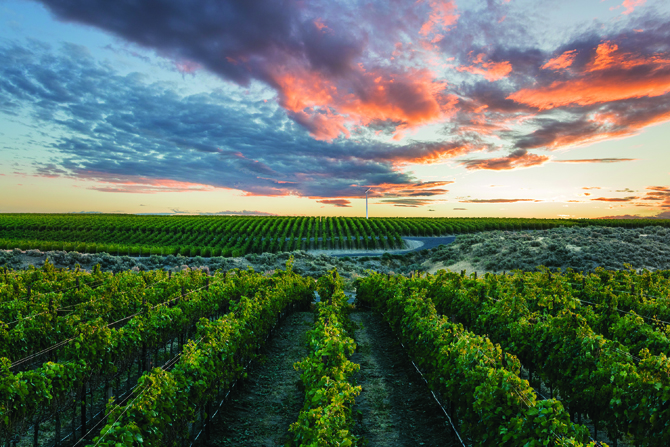 It's hard to speak of Horse Heaven Hills without mentioning the late Andre Tchelistcheff, the world-renowned wine expert who thought little of Washington when he first came to visit in the 1960s, until he tasted a wine grown in the Columbia Valley. Once he declared the area had potential, ambitious winemaking hopefuls sought his advice on locating the best areas in which to plant vines. At the time, the land that eventually became the Horse Heaven Hills appellation was deemed one of Washington's most promising regions for Cabernet Sauvignon. The rest, as they say, is history.
Located along the Columbia River, west of Walla Walla, Horse Heaven Hills occupies an expanse that spans 50 miles long and 20 miles wide. Characterized by a dry desert landscape, the area is set apart by winds that blow continuously across the vineyards. These winds naturally reduce the vine canopy size for better ripening, while the drying effect protects against mildew and other diseases. From this relatively large appellation, Double Canyon focuses its efforts around the community of Alderdale, the area we consider capable of the highest quality. For our Horse Heaven Hills wines, we exclusively source fruit within a focused, 5-mile radius, which includes our estate Double Canyon Vineyard, the acclaimed Champoux Vineyard, Phinny Hill, Destiny Ridge and Alder Ridge Vineyard.
As one of Washington's warmest appellations, proximity to the Columbia River moderates temperatures and provides a consistent source of water to irrigate the vines. Horse Heaven Hills experiences diurnal shifts between extended sunlight (around 17 hours of light each day) and cool evenings, which helps the fruit develop optimal phenolic ripeness and balanced acidity. Elevations range from 300 to 1,800 feet above sea level.
Another unique characteristic that defines this region is the wind-blown loess soils that sit atop a basalt base, which is the result of huge lava flows millennia ago. Nutrient-poor and free-draining, the soils of Horse Heaven Hills produce wines with distinct mineral nuances—a defining characteristic of our wines.